In October of 2016, my husband and I brought home our new little bundle of joy – a tiny, sweet French Bulldog mix puppy! After three days of calling her "baby girl", we compromised on the name Sadie Grace. We felt just like new parents buying all the best food and toys and treats for our little one. We were even kept up all night as she constantly cried. Sleeping in her own crate or bed was not for this puppy, she was determined to sleep in our bed with us. All sleep or none sleep was her motto those first couple of nights. But thankfully, after a while, we all adjusted and things became fairly routine.
Unfortunately, part of that routine soon became tummy troubles. We couldn't exactly put our fingers on what was causing it. Was it the occasional piece of fruit, carrots, or popsicle I would share with her? Maybe. Could it be that every time we went outside, she hoovered up anything and everything in the yard and on the sidewalks? Possibly. We also wondered what went on at doggie daycare that we didn't know about. Were there sick dogs spreading illness, or other food and treats being given that didn't agree with her? It was impossible to know. What we did know is that I was quickly becoming "that (dog) mom" that called the vet every other week because my delicate snowflake was sick again.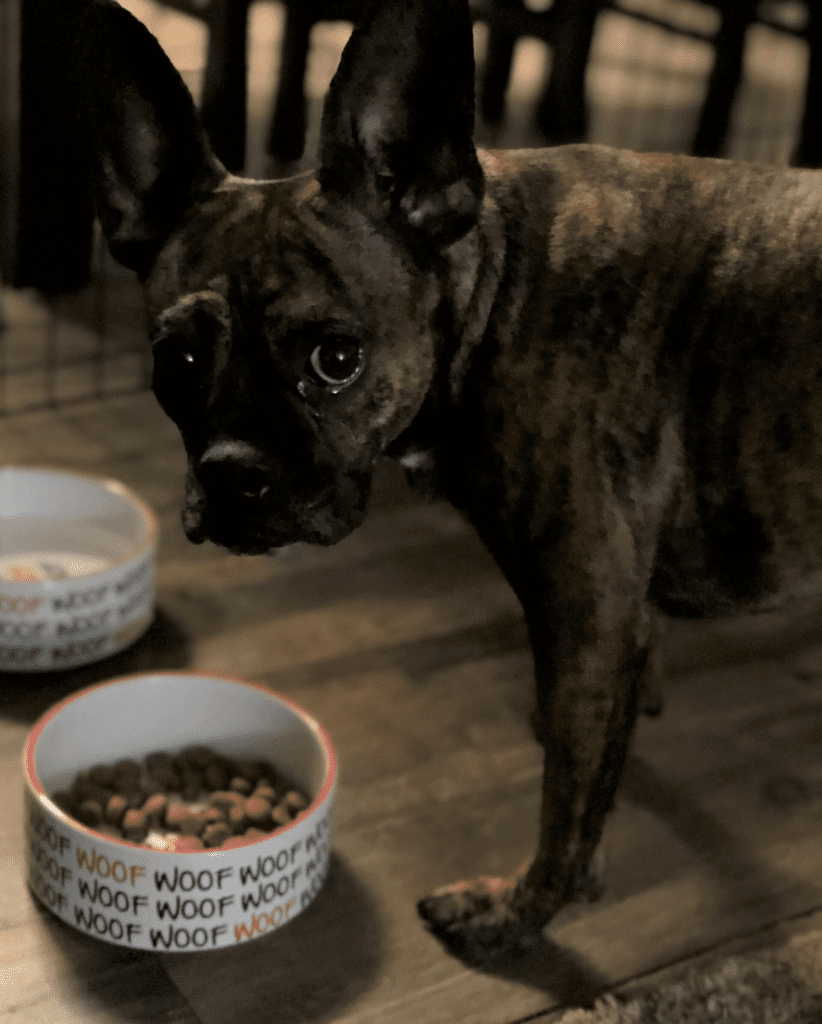 This went on for more than a year. Messes in the apartment, messes in the yard, the staff at doggie daycare saying "Sadie was sick again today", me calling the vet, "Hi, it's me again…". She would be tested for parasites and other illnesses, prescribed medicine to help with her symptoms, and I would have to feed her boiled chicken and plain white rice for a few days. It was definitely not the routine I had in mind when we decided to take on dog ownership.
Eventually the vet suggested some rather expensive food made for dogs with sensitive digestive systems. We were already spending a fortune at the vet so expensive food would be an even trade if it cured her tummy woes. And it did, cure her tummy woes. Until it didn't. And once again we were back in the vet's office with Sadie suffering from what her vet cutely refers to as "busy butt."
It was this visit that we decided to take the next step and do a trial elimination diet for several weeks and see if Sadie's issues were perhaps food allergies, or immune system related. We were advised to get even more expensive food, only available with a veterinarian's prescription, as well as probiotics to give Sadie to help be proactive with her gut health. We were to feed her nothing else for the trial period, no people food, no dog treats, nothing but the prescribed food. That would be the only way we would know if it truly worked.
For weeks, we held our breath in anticipation every time Sadie went to do her business. It seemed to be working, she slowly became more regular, predictable, and healthy. She even seemed to enjoy the food more than the other brands she had had. Normally she grazed throughout the day as she felt hungry, but now she was eating her whole bowl of food as soon as I set it down in front of her. I felt like we were finally winning this battle.
But as the months wore on, the added cost and inconvenience of having to drive across town to the vet during office hours every time we needed dog food was growing old. We couldn't just pop in to whatever store was nearby while we ran weekend errands and pick up her brand of dog food. We had to call ahead to the vet's office and make sure they had a bag on hand and then either my husband or I would have to make a special trip to pick it up before or after work.
In addition, we couldn't buy just any dog treats to use for rewarding or loving on Sadie. It was months before we found the same brand of hydrolyzed protein dog treats on amazon.com. Not only were they expensive, but the price was never consistent, so we were always at the mercy of unpredictably high prices and scattered availability.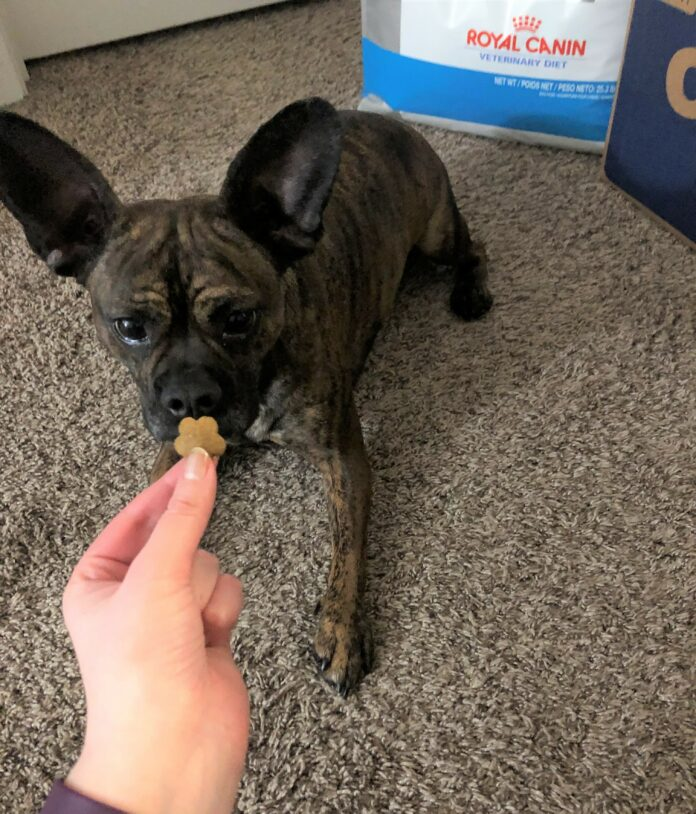 And then it happened. The universe gave me a sign. Well, three signs really. The first sign, a package outside our neighbor's door, a cardboard box with a blue Chewy.com logo on the side. The second sign, an ad for Chewy.com appeared as I was scrolling my newsfeed on Facebook. And third, my mom mentioned getting a mailer from Chewy.com, which she thought to pass on to me since her and my dad don't have any pets.
I had heard of Chewy.com before but had never visited the site. My perception was that they sold toys, which Sadie gets from her Bullymake box subscription, and other pet supplies like collars, food dishes, and maybe some cute little sweaters or boots that Sadie would refuse to wear. It never occurred to me that they would sell food, and even if they did, certainly not the prescription food that Sadie's distressed digestive system requires.
But something was seemingly nagging at me to check it out. And boy am I glad I did – not only does the site sell dog food, I was surprised to find that they sell Sadie's brand of prescription dog food. It was priced slightly below what our vet was charging, and they offer a 5% discount on items scheduled for autoship and free shipping on orders of $49 or more, which was about half the price of a 25lb bag of Sadie's food. I did a little more digging and found the treats we had been ordering for Sadie. Even better, they were a fraction of the price we had paid at times, and wouldn't be expected to vary from order to order. Lastly, I checked for Sadie's probiotics. Bingo – they had those too!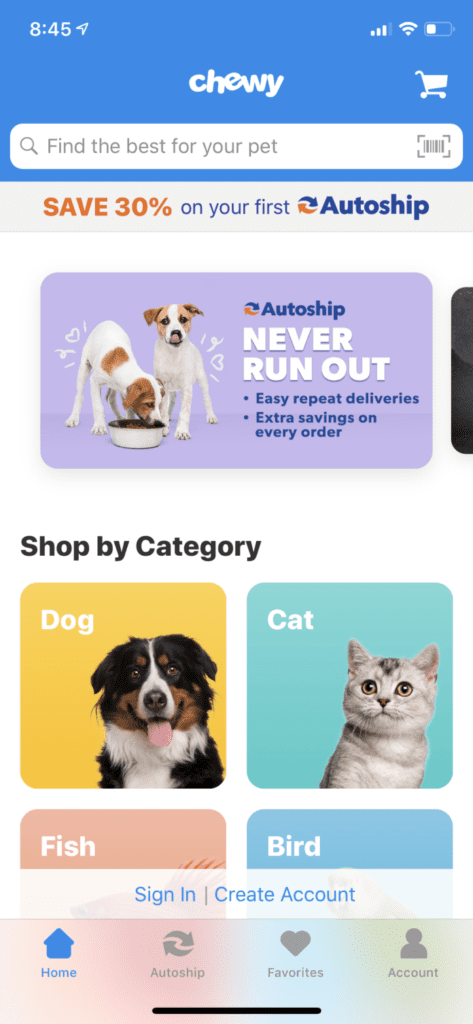 We did some math and figured we would start out with one 25lb bag of food, three bags of treats, and one 60 count of probiotics every 10 weeks – a few shipments out we are reevaluating and thinking we may be able to switch to shipping every 12 weeks. Either way we are thrilled with this "set it and forget it" way of purchasing all we need to keep Sadie fed and healthy. Chewy.com even promptly contacted our veterinary's office for a quick prescription approval of her food and treats.
Chewy.com isn't just a website either, they also have a great app where you can shop for all kinds of specialty products, manage your autoship, access the chewy pharmacy, and scan products to find exactly what you need.
By scheduling Sadie's food, treats, and supplements to be delivered right to our home, on time when we need it, and at great prices, we have more time and money to spend on the things that really matter – like going to the dog park or picking out Sadie's Halloween costume!