If you're uber busy like us, then finding the right cat food delivery service can help being a cat owner much more pleasant. Why waste time trapsing around town lugging heavy cat food when you could be home playing games with your kitty? Cat food delivery services offer high-quality, nutritious meals delivered right to your doorstep. Often, the quality of delivery cat food is much higher than the store bought brands. But with so many options available, which one should you choose for your fabulous feline? Here's our round up of the top cat food delivery services that stand out in their respective categories. Let's dive in!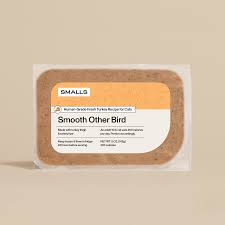 Smalls: Our Favorite Refrigerated Cat Food
Smalls has carved a niche for itself in the world of cat food delivery with its emphasis on freshness and quality. Specializing in refrigerated cat food, Smalls ensures that every meal delivered to your feline friend is uber fresh. But what sets Smalls apart is their quality. They provide meals that are both delicious and nutritious, striking the right balance that cat owners often seek.
One of the standout features of Smalls is their commitment to using high-quality ingredients. Their offerings are crafted with care, ensuring that the natural flavors and nutrients are retained. This gentle cooking process is a testament to their dedication to making food that tastes great AND is beneficial for your cat's health. The brand's focus on refrigerated meals ensures that every bite is packed with the freshness that cats naturally crave.
Moreover, Smalls offers a range of flavors to cater to the diverse palate of felines. Whether your cat is a fan of chicken, beef, or fish, there's something for every feline gourmet. This variety ensures that even the pickiest eaters have something to look forward to at mealtime. And for cat owners, the convenience of having these meals delivered right to their doorstep is unmatched.
But Smalls isn't just about food. Their holistic approach to cat care is evident in the resources they provide to cat owners. From guides on transitioning your cat to their food to understanding the unique dietary needs of felines, Smalls ensures that cat owners are well-informed and equipped to make the best choices for their cats.
See the best Smalls deals on their website or check out our more detailed review of Smalls Cat Food.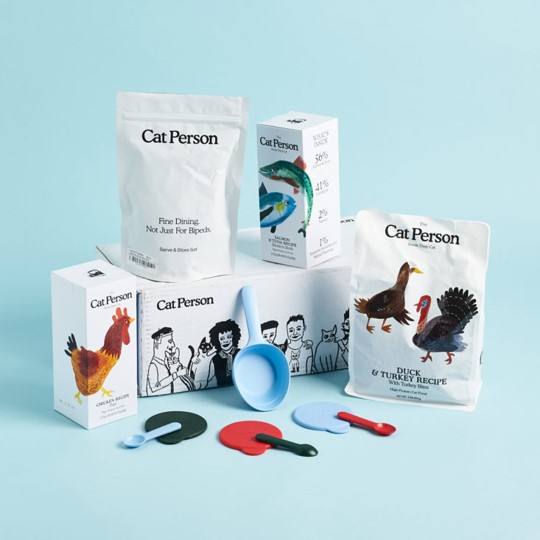 Cat Person: For the Convenience of Shelf Stable
Cat Person is a brand that truly understands the unique bond between cats and their owners. Their philosophy revolves around the idea that this relationship is special, transcending the typical owner-pet dynamic. Instead, they view it as a bond between friends, loved ones, and even occasional frenemies. This understanding is reflected in the products they offer and the way they present themselves.
One of the standout features of Cat Person is their commitment to providing real, healthy cat food made simple. Their offerings are grain-free, with a focus on high-protein content. In fact, their cat food contains at least 50% more protein than the industry standard. This ensures that your feline friend gets the nutrition they need without any unnecessary fillers or additives. The brand prides itself on its clear, straightforward ingredients. With Cat Person you know exactly what you're feeding your beloved pet.
Another unique aspect of Cat Person is their customized Delivery Meal Plan. Cat owners can take a quiz about their cats to tailor the Meal Plan to their specific needs. This is followed by a Starter Box that lets owners see which recipes their cats prefer. The entire process is designed to be hassle-free, with the added convenience of home delivery. Plus, with free shipping on orders over $45, customizable plans, and the option to edit or cancel anytime, Cat Person is flexible and convenient.
Moreover, Cat Person doesn't just stop at food. They also offer products like the Mesa Bowl, which is designed to support a cat's anatomy, accommodating their whiskers without making them hunch over during meals. This attention to detail showcases their dedication to understanding and catering to the unique needs of cats.
See the best Cat Person deals on their website.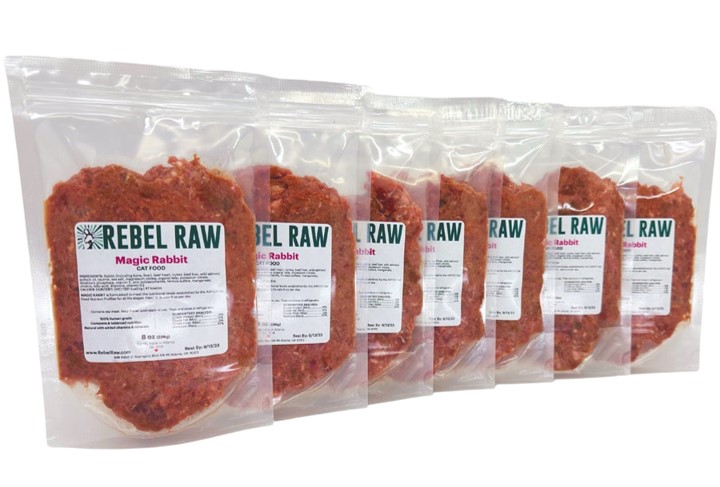 Rebel Raw: For Cats Who Prefer Raw Cat Food
Rebel Raw is a cool brand that offers a unique and natural approach to feline nutrition.
One of the defining features of Rebel Raw is their dedication to using 100% human-grade, USDA certified proteins and produce. This means that every bite your cat takes is of the highest quality, free from fillers, preservatives, and other unwanted additives. Their meals are produced and packaged in-house at their Atlanta commercial kitchen. There's no outsourcing or co-packers involved, ensuring that the quality and integrity of the food are maintained at all times.
Another unique aspect of Rebel Raw is their perfectly portioned cat meals. They take the guesswork and mess out of feeding, offering sizes ranging from 6 oz to 32 oz. These smaller size options are great if you have just one cat.
Each week consists of seven packs of frozen food, one for each day. All you need to do is thaw and feed, making it as easy as feeding gets. This convenience is a boon for cat owners who want to provide the best for their pets without the hassle of measuring or creating a mess.
Furthermore, Rebel Raw's commitment to transparency and customer satisfaction is evident in their approach. They offer feeding guides, detailed information about their ingredients, and even reviews from satisfied customers. The brand has been crafting hand-made meals since 2014, showcasing their experience and dedication to the world of raw pet food.
See the best Rebel Raw deals on their website.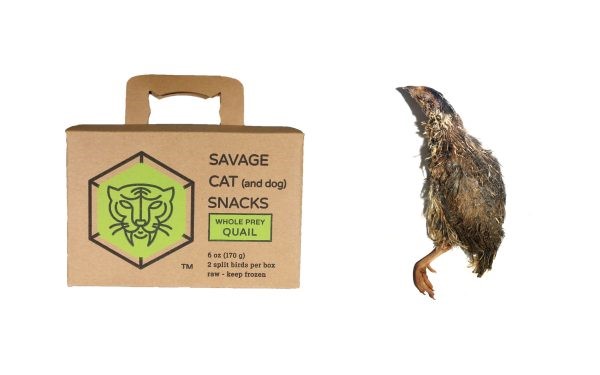 Savage Cat Food: For the Inner Hunter in Your Feline
Savage Cat Food is more than just a brand; it's a call to the wild instincts that reside in every feline. Recognizing the innate hunting desires of cats, Savage Cat Food offers meals that not only satiate their hunger but also cater to their primal instincts. Their tagline, "Increase your cat's health and longevity by feeding a raw prey-based diet," is a testament to their commitment to providing meals that mirror a cat's natural diet in the wild.
One of the brand's standout features is its range of unique products that are sure to entice the inner hunter in your cat. Although more squeamish cat owner may not appreciate these meals in their natural form, they are unlike anything any of the other services offer.
Savage Cat's Unique offerings
FREEZE DRIED QUAIL EGGS are packed with nutrition. They offer a different texture and taste, making mealtime a crunchy exciting adventure for your cat.
WHOLE PREY QUAIL providing cats with a meal that's very close to what they would hunt in the wild.
DEHYDRATED RABBIT STRIPS + CHIPS are a treat, offering both nutrition and the joy of tearing into a prey-like meal.
Beyond these wild offerings, Savage Cat Food emphasizes using 100% human-grade ingredients in their products. Flavors such as chicken, rabbit, lamb, and duck ensure a diverse menu for your feline, catering to their varied tastes. The brand's transparency about its ingredients gives cat owners peace of mind, knowing exactly what's in their cat's food and, importantly, what's not.
The convenience of Savage Cat Food's packaging, available in both packets and tubs, combined with their detailed feeding directions, ensures that feeding your cat is hassle-free. Moreover, their guidelines on transitioning cats to a raw diet are invaluable, ensuring a smooth and comfortable shift.
In essence, Savage Cat Food is not just about feeding your cat; it's about honoring their wild instincts and providing them with meals that they would naturally crave. It's about recognizing the hunter in them and offering a diet that aligns with their nature. With Savage Cat Food, every meal is not just nutrition but an experience, ensuring that your cat's inner hunter is both satisfied and nourished.
See the best Savage Cat Food deals on their website.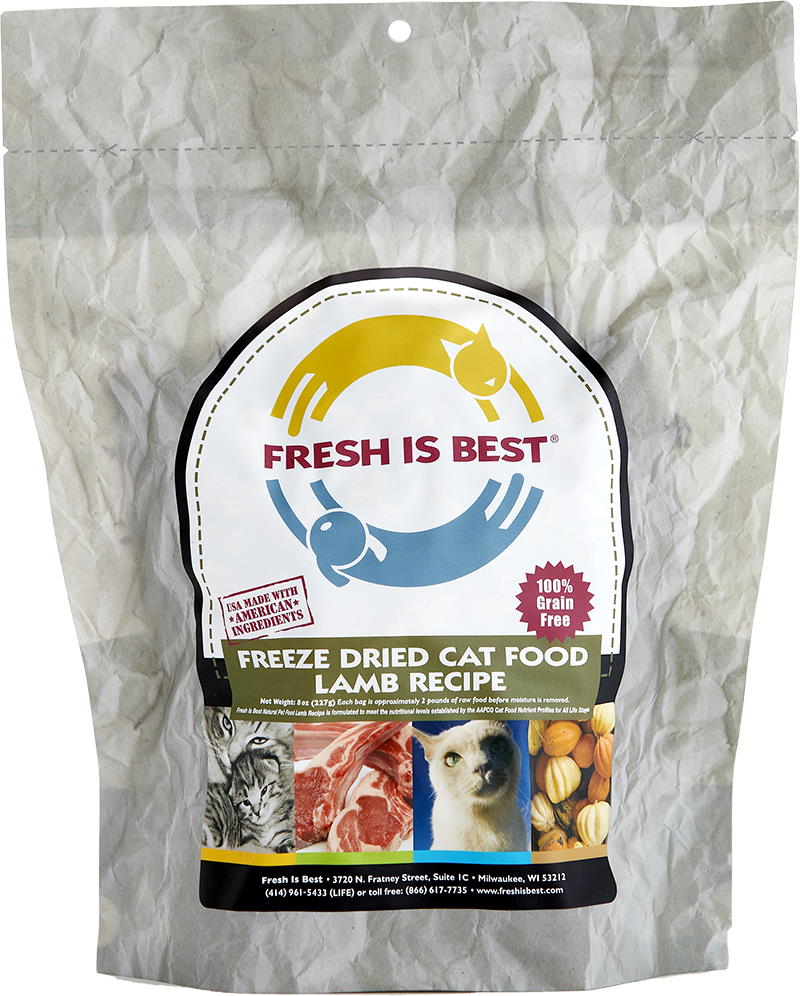 Fresh Is Best: For the ease of Freeze-Dried Cat Food
Fresh Is Best is one of our favorite cat food delivery services with their freeze-dried cat food offering. One of the standout features of Fresh Is Best is their dedication to using only natural ingredients in their products. the Fresh is Best brand is not just cat food but extends to dogs as well, so this makes their service a good option for multi-pet households. The freeze-drying process they employ ensures that the natural flavors and nutrients of the ingredients are retained.
Another aspect of Fresh Is Best is their solid range of protein options. From beef to chicken, duck, lamb, and even seafood-based pet foods, they cater to the diverse palate of pets. This variety ensures that even the pickiest eaters have something to relish. Moreover, their product range includes not just main meals but also meal toppers and meat treats, allowing pet owners to add a touch of gourmet to their pet's regular meals or reward them with a delicious treat.
If you're looking for a shelf stable option that doesn't require refrigeration and Cat Person hasn't enticed your fur ball, give Fresh Is Best delivery a try.
See the best Fresh is Best deals on their website.
Best Cat Food Delivery Services TL;DR
Choosing the right cat food delivery service can make a world of difference in your cat's health and happiness. Whether you're looking for dry food, refrigerated meals, raw options, or freeze-dried varieties, there's a service out there that's perfect for your feline friend.