Everyone wants the best for their furry little friends. Bunny subscription boxes are a great way to explore samples of new products that your bunny might enjoy without breaking the bank. Bunny subscription boxes deliver a few treats and toys each month to keep your bunny's environment stimulating with new treats and toys. It's tons of fun to get a new package of goodies to open each month.
Here, we round up the 5 best bunny subscription boxes specifically aimed at homes with house bunnies or rabbits. We focused on boxes available to households in the United States & Canada.
The 5 Best Bunny Subscription Boxes
To evaluate subscription boxes for bunnies on common ground, we'll look at frequency, cost and the types and number of products you're likely to find in each box. We also considered the quality of products and whether the company specializes in house bunnies. The features you find critical will depend on your specific needs.
1. Binx Box
Binx Box is a US-based bi-monthly subscription box. They are one of the more well-known of the rabbit subscription boxes in North America and they specialize in just bunnies so they know their stuff. These guys are serious about the health and happiness of your beloved bunny, so all ingredients and toys are natural and well-researched for bunny compatibility.
The monthly subscription to Binx Box gets you two treats and three to four toys. Even though this bunny subscription box isn't customizable, the Binx Box team does a good job of selecting unique bunny-specific products each month. The products also come packed with a high quality hay called Small Pet Select's 2nd Cutting Timothy Hay, which subscribers swoon over. Binx Box is a quality choice to make your soft little fuzz ball a happy clucking bunny.
2. Pawtyfun bunny box
The Pawtyfun monthly bunny subscription box is another guaranteed to make your bunny 'chirrup' with delight. You get either five toys or three toys and two treats for your furry friend. They do have prepayment options which will bring the cost per shipment.
All of Pawtyfun's products are locally made in the US or Canada, which is a nice touch. They also focus on products which are "all natural," so it's super healthy. Pawtyfun is affiliated to shelters, non-profits and rescue organization across the US, so each subscription helps a furry friend find a forever home. Win-win!
3. Happy Bunny Club
UK-based Happy Bunny Club offers a monthly subscription service especially for your Snowball. Based out of Norfolk, UK, these guys charge in British Pounds, so prices for US and Canadian customer may vary depending on the latest exchange rate, you'll get two treats, two toys and one or two surprise items. Neat, we love extras! The best part is that they have very reasonable international shipping rates.
The Happy Bunny Club has a rather loyal following of house bunnies so they must be doing something right. Happy Bunny Club is also affiliated with charities that help bunnies and other pets find forever homes, so you can rest assured that the natural treats you get your little rascal is helping other bunnies too.
4. Barks & Bunnies
Wow, Barks and Bunnies really go all out on their subscription plans! You get to choose a package especially for your little Thumper, specifically aimed at either digestive health, relaxation or premium products. As you might suspect from their name, this company also offers unique multi-pet options such as a box with both dog and bunny products combined into one shipment.
The "Digestive Health" bunny subscription box is one of the lowest priced pet subscription boxes on the market. However, this is another UK based service so US and Canadian customers will need to add extra for international shipping. Even with a higher shipping cost, the low cost of their boxes keep the overall cost reasonable.
With all the customization options, you can make sure your little fluff ball gets only the best toys, treats and herbs especially customized to his or her personal preferences. The number of goodies in your box would depend on the type of box you purchase. Because of all the options, these boxes are a good choice for those of you with particularly picky rabbits.
Barks & Bunnies is also affiliated with a number of UK pet charities, so your contribution helps other pets find their families too.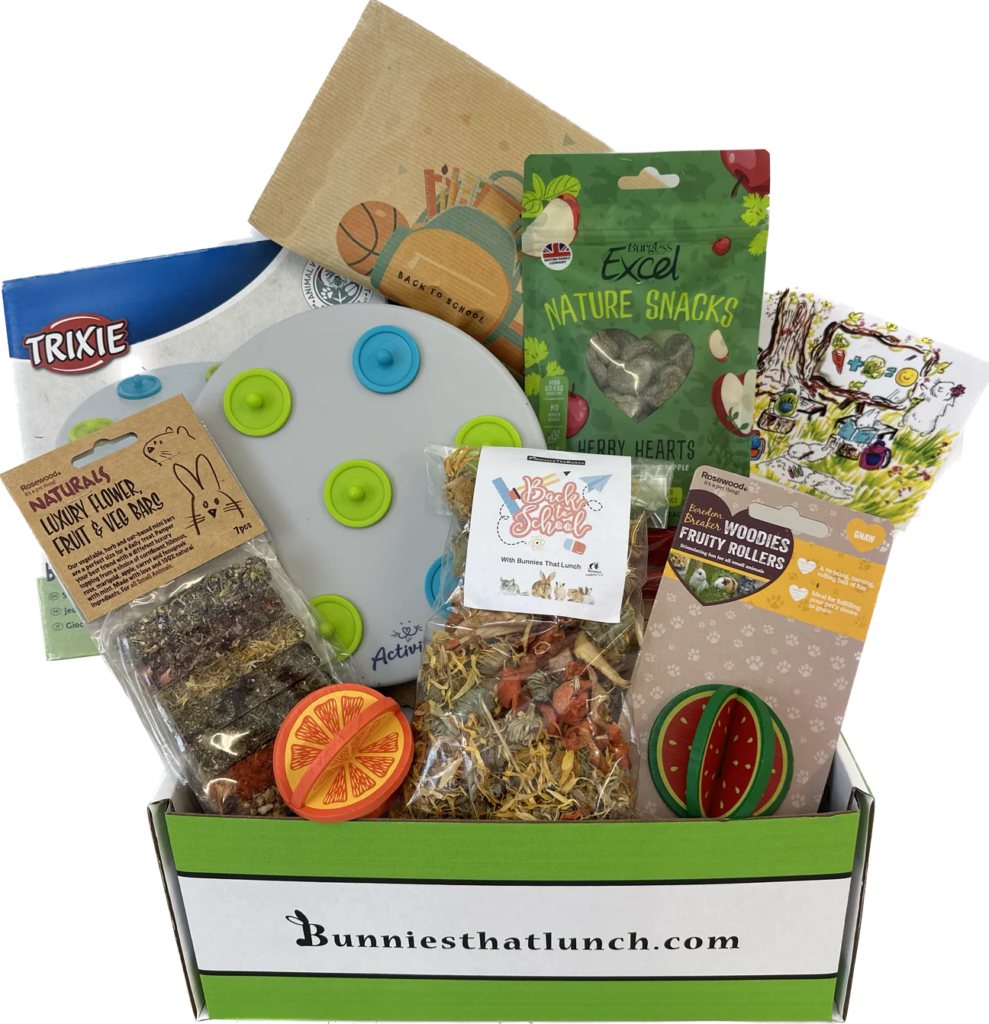 5. Bunnies That Lunch
Bunnies That Lunch is yet another UK-based rabbit subscription box. What is it about the United Kingdom that make pet rabbits such a popular pet to pamper? Although the company that makes Bunnies That Lunch also has subscription boxes for dogs and subscription boxes for cats, they got started in the bunny box business. This means they really know their stuff on products for house bunnies.
Prices are in British pounds and shipping to the US/Canada/Rest of World is extra. This makes Bunnies that Lunch one of the more expensive options for US and Canadian consumers, however, you do get what you pay for with a generous number of items and quality product brands.
Bunnies that Lunch includes often includes full size products rather than sample and typically includes 6-7 items. Each month has a different theme. They also have a nice service where you can order their past monthly boxes. This is a great option if you want to try them out on a single box before committing to an ongoing subscription.
Compare Bunny Subscription Boxes
Wow, so many options to bring out your bunny's little teeth purr! So, let's summarize all of this so that you are able to make an informed decision before signing on any dotted line, shall we?
Binx Box
Pawtyfun
Happy Bunny Club
Barks & Bunnies
Bunnies That Lunch
Frequency
Monthly or Bi-Monthly
Monthly
Monthly
Monthly
Monthly
From
USA
USA/
Canada
UK
UK
UK
Customizable?
No
Yes
No
Yes
No
Quantity
5-6 items
5 items
4 items + 2 surprises
Depends
6-7 items
Type
Treats, toys, chews, supplies
Toys, treats
Toys, treats
Toys, treats, herbs
Toys, treats, extras
So, how to decide which bunny subscription box you should choose? This would depend on your preferences and your bunny's needs.
If you buying for a friend and want the most well-known name, go for the Binx Box
If you're serious about buying only locally sourced products, the Pawtyfun bunny subscription box is for you.
If you're into deluxe luxury pampering for your furry nibblers, consider one of the UK-based boxes such as Barks & Bunnies box with their wide range of subscriptions, Happy Bunny Club, or Bunnies that Lunch.
Have you tried any bunny subscription boxes? What was your experience?