In the vast ocean of cat food delivery brands, there's a particular brand we recommend that promises not just cat food, but a culinary experience for our feline friends. Enter Smalls – a brand that's redefining what it means to feed your cat. Smalls redefines cat food subscriptions, blending quality ingredients with culinary expertise. If you're looking for the best gourmet meal service for your cats and are willing to spend the money, Smalls is the brand we'd recommend.
What is Smalls
Smalls markets itself as "human-grade fresh"; it's a commitment to providing your cat with the best. Crafted with ultra-high protein and devoid of any fillers, Smalls cat food delivery is the epitome of quality. Designed for the discerning cat owner who understands that cats are not just pets but family, Smalls ensures that every meal is a feast, both nutritionally and tastefully. While Smalls primarily focuses on the quality and nutritional value of their meals, they offer a variety of recipes to cater to the diverse palates of cats. From their Fresh Smooth Bird Recipe to their Fresh Pulled Other Bird Cat Food, there's something for every feline taste bud.

Smalls Cat Food Flavors
Some of the standout flavors include "Cow," "Fish," "Bird," and "Other Bird." These whimsically named options are a testament to the brand's commitment to using real, high-quality ingredients. Each flavor is crafted with human-grade ingredients, ensuring that your cat is not just eating but dining. Whether your cat has a penchant for the rich and robust taste of beef (Cow), the delicate flavors of poultry (Bird and Other Bird), or the refreshing taste of seafood (Fish), Smalls cat food delivery has got it covered. The brand's dedication to quality and taste ensures that every meal is not just nutritious but also a gastronomic experience for your feline friend.
One of the things we like about Smalls is that they offer both smooth and ground textures in their flavors. It's not only good for cat owners like me that have a picky eater, but Smalls would also be a great choice for someone who has a senior cat without many teeth left.
Click here to see all the ingredients and nutritional details at the Smalls website.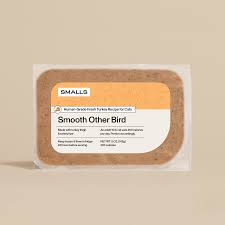 List of Smalls Cat Food Flavors
Fresh Ground Bird 🐓 – What's the word, bird? Smalls all-natural chicken recipe is made with 79% breast and thigh, 4% liver, and 1% heart.
Fresh Smooth Other Bird 🦃 – Smalls all-natural turkey recipe in a smooth pate. Made with 79% turkey thigh and 8% turkey liver.
Fresh Smooth Bird 🐓 – Smalls all-natural chicken recipe but in a smooth pate. Made with 79% breast and thigh, 4% liver, and 1% heart.
Fresh Smooth Cow 🐄 – Smalls all-natural beef recipe in a smooth pate. Made with 90% lean ground beef and 10% cow liver and heart.
Fresh Ground Other Bird 🦃 – Your cat will gobble up Smalls all-natural turkey recipe. Made with 79% turkey thigh and 6% turkey liver.
Fresh Smooth Fish 🐟 – A fresh catch for your cat. Smalls all-natural fish recipe in a smooth pate. Made with 40% salmon and 40% cod.
Fresh Ground Cow 🐄 – Have beef with poultry? No worries, Smalls all-natural beef recipe is made with 90% lean ground beef, 6% liver and 5% heart.
With any subscription, if your cat has tried all the flavors and textures in their sampler after two weeks and doesn't enjoy any of them, they will give you a refund.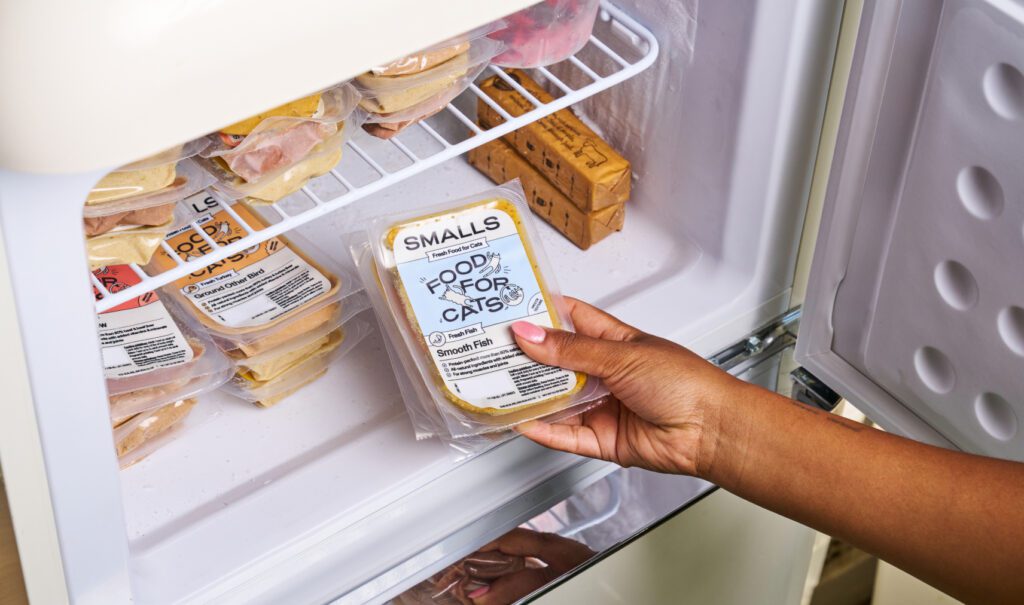 My Cats' Journey with Smalls
Living with two cats as distinct as night and day has always been an adventure. Luna, my Siamese mix black cat, is the epitome of feline sophistication. She's selective about everything, from her resting spots to her food. On the other hand, Cali, my calico, is the free spirit of the household, always ready for a snack and a play session.
When I introduced Smalls to their kitty diet, I was curious to see how each cat would react. Luna, with her discerning gourmet feline palate, immediately took a liking to the "Smooth Bird" flavor. Perhaps it was the delicate taste or the creamy texture, but it was one of the rare moments I saw her eat with such enthusiasm. And trust me, for a cat that often turns up her nose at some of the most premium brands, this was a win!
Cali, with her ever-adventurous spirit, dove straight into the "Smooth Fish" flavor. Of course, this is the cat that would eat a McDonalds Filet of Fish sandwich if allowed. Cali devoured the Smooth Fish with gusto, and I could swear I heard her grunting every bite. I haven't traditionally bought fish flavors in cat food, but since Smalls sent a sampler pack to start, I learned that maybe I might have been gatekeeping her favorite flavor.
However, Cali's love for food meant I had to keep a close eye during feeding times. There were instances when she'd try to sneak over to Luna's bowl trying to steal hers. But Luna, who sometimes walks away disinterested when Cali tries to steal her food, actually stands her ground with the Smooth Bird flavor. We'll see if that lasts.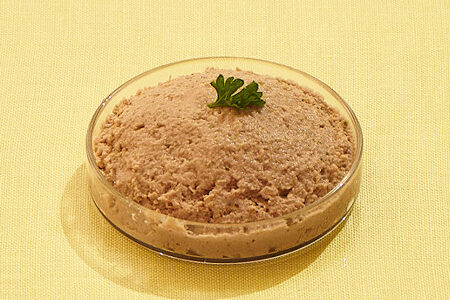 Key Advantages of Smalls
High-Quality Ingredients: Smalls uses only the best ingredients, ensuring that your cat gets a meal that's both delicious and nutritious. No fillers, no junk, just pure, high-quality food.
Why use it? To provide your cat with a balanced and nutritious diet.
Benefits: Improved health, shinier fur, and increased energy levels.
Drawbacks: Might be a tad pricier than regular cat food, but quality comes at a price.
Customizable Cat Food Delivery Subscriptions: Smalls understands that every feline is unique. Their subscription model allows cat owners to customize meal plans based on multiple cat's preferences and needs.
Why use it? To ensure your cat gets meals tailored to their taste and nutritional requirements.
Benefits: Happy and satisfied cats that look forward to meal times.
Drawbacks: Requires a bit of initial effort to understand and set your cat's preferences.
Gentle Cooking Process: Unlike many commercial brands, Smalls cooks their food gently, preserving the nutrients and ensuring that the food remains as natural as possible.
Why use it? To provide your cat with food that's closest to its natural form.
Benefits: Healthier food that's easy to digest.
Drawbacks: Requires refrigeration to keep it fresh.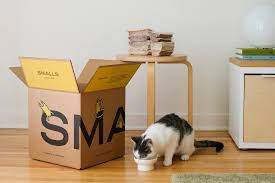 Extra Cat Food Treat
Smalls also offers "free treats for life" with their cat food subscriptions. I was a bit bummed to see that they didn't make the cat treats themselves but instead included kitty treats from partner brands. The current treats on offer are from Catnip N Chill Treats. They are crunchy, bite sized treats made with chicken, sweet potatoes, and catnip. My cats like them, but I'm not sure I'm into the idea of them switching up brands all the time. Besides, should a cat food company make their own treats?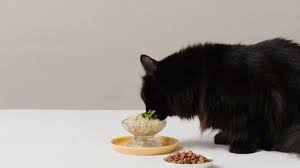 How does Smalls stack up to other pet food delivery competitors?
While Smalls cat food delivery is a standout option, it's worth talking about how Smalls fares against a couple competitors:
Cat Person: Offers customizable meal plans and both wet and dry food options. However, Smalls' emphasis on high-quality ingredients and its gentle cooking process gives it an edge.
JustFoodForCats: A brand that offers high-protein recipes. While they are transparent about their ingredients, Smalls' diverse range of recipes tailored to specific cat needs makes it a preferable choice.
Darwin's Natural Pet Products: A premium cat food delivery service. While they offer high-quality food, Smalls' comprehensive range of recipes ensures a balanced diet without the need for prescription meals.
Rebel Raw: Some readers know that we're a fan of this brand. Rebel Raw offers a range of raw cat food options, including some exotic varieties like Rabbit. Each product is crafted with care, ensuring a raw and natural diet for cats. Rebel Raw definitely has more unique protein options.
Why Smalls might be better: While Rebel Raw emphasizes the benefits of a raw diet, not every cat does well on raw. Smalls offers a more versatile range of gently cooked meals, ensuring that even cats not accustomed to raw food get the best nutrition.
Fresh Is Best: Specializing in freeze-dried cat food, Fresh Is Best offers flavors like Beef, Chicken, Duck, Lamb, and Pork. Their emphasis is on providing natural pet food without any fillers or unnecessary additives.
Why Smalls might be better: Most vets recommend wet food. Additionally, Smalls' customization options ensure a tailored diet based on each cat's specific texture needs.

Pros / Cons of Smalls Cat Food Delivery Service
Pros:
High-quality ingredients ensuring nutritious meals.
Customizable subscription models.
Gentle cooking process preserving nutrients.
Diverse range of recipes catering to different tastes.
Cons:
Might be pricier than some other brands.
Requires refrigeration.
TL;DR
In the world of delivery cat food, Smalls is a game-changer. With its commitment to quality, nutrition, and taste, it's the brand that every cat owner should consider. While it might be a tad pricier than its competitors, the benefits it offers are unparalleled.
So, if you're looking to give your feline friend meals that they'll not only love but will also keep them healthy and active, Smalls is the way to go. Don't wait; elevate your cat's dining experience today. Your feline friends deserve the best, and with Smalls, that's precisely what they'll get.