My husband and I share our lives with four active Brittanys and one tolerant cat.
My adventure started with Lily, my cat, 16 years ago. A year later we adopted Daisy, the first of four Brittanys, who was only 8 weeks old.
In February of 2005, we signed up to volunteer with American Brittany Rescue. We took in our first foster dog in March. WOW!  I had no idea what I was getting us into! In October of that same year, we had our first foster fail, Sophie…Oh, what a slippery slope! 2 dogs and a cat eventually turned into 4 dogs and a cat.
Our Crew
A little background on each of the pups: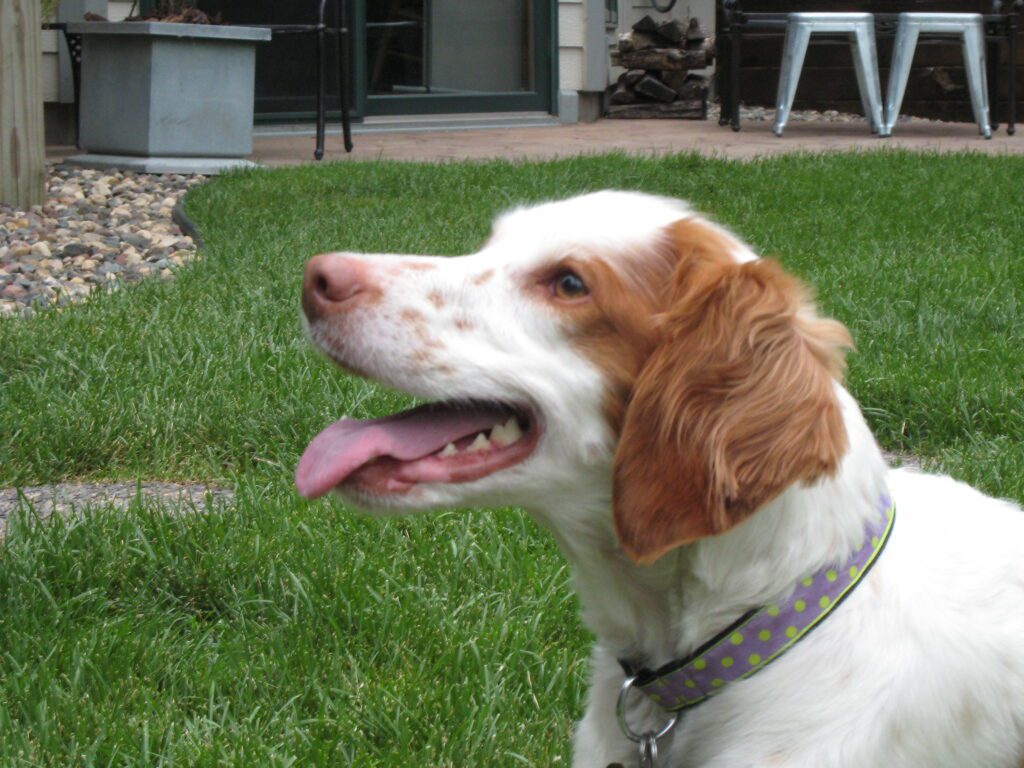 Daisy 15 years old – I've had her since she was 8 weeks old. I did all the proper puppy training and tons of introductions to strangers. But that didn't matter, turns out she was born with reactivity issues. Though it took several years and a lot of work, we were able to rehabilitate her fully.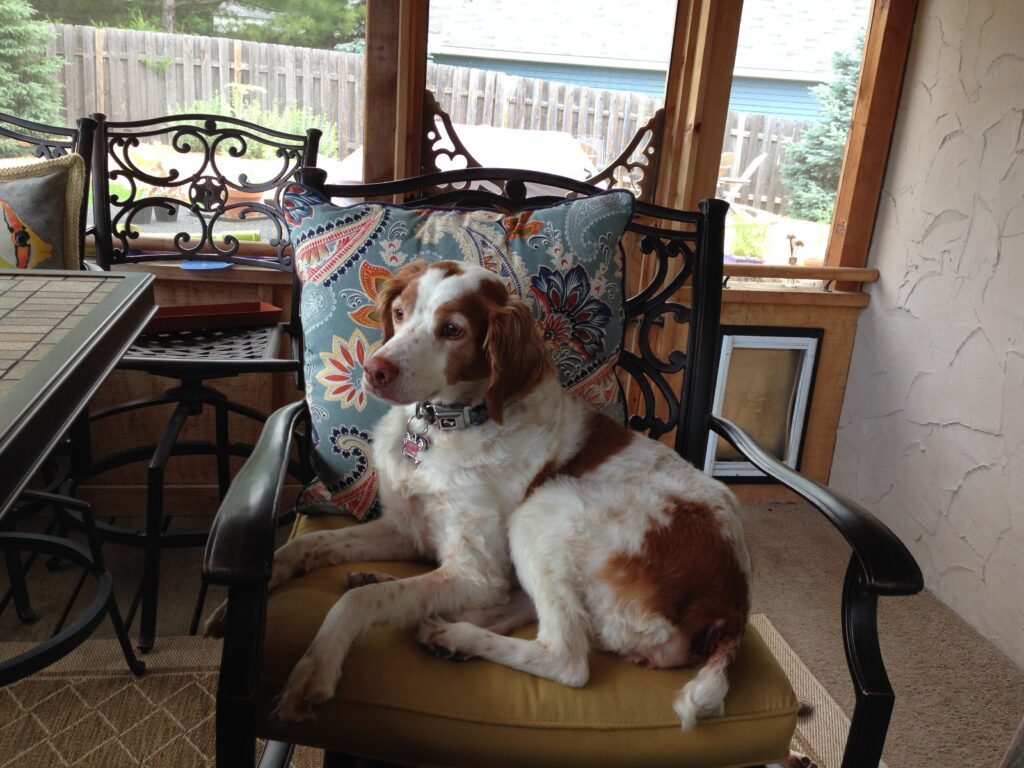 Sophie 13.5 years old – I foster failed her when she was 2 yo. She came from a very abusive owner. Her former owner used a shock collar to the extreme and a fishing pole to correct bad behavior (he told me this). She spent 90% of her first two years in a kennel, resulting in barrier anxiety. Meaning, she couldn't safely be crated since she would chew and claw at the bars to the point of causing harm to herself.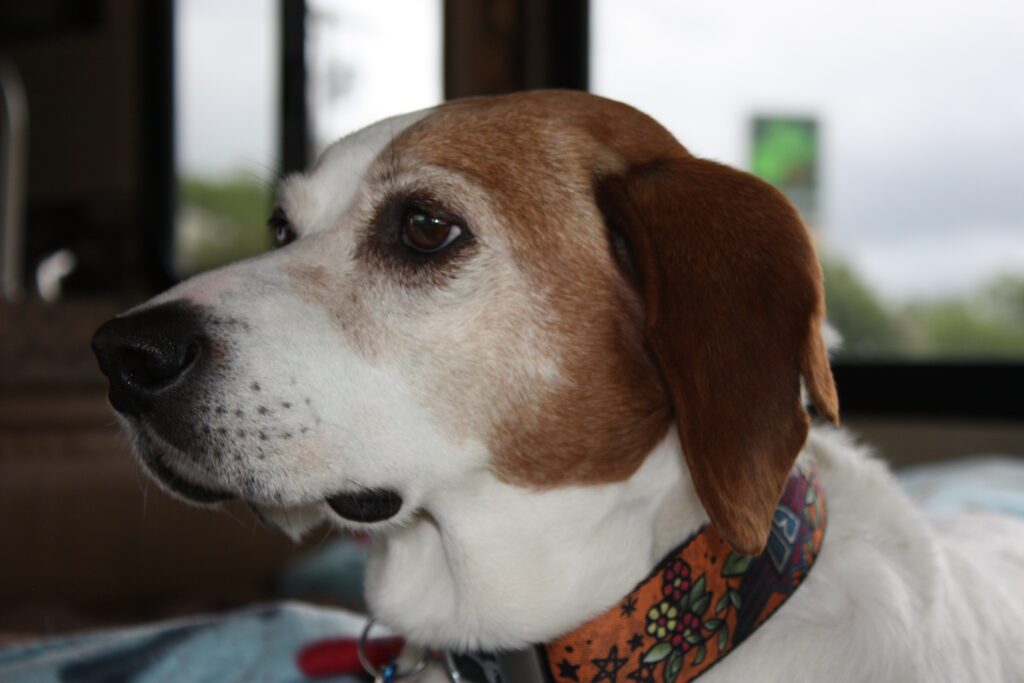 Calvin 10 years old – He's the only boy, I adopted him when he was 8 mos old. He had already seen his share of abuse from living on the streets. He was pretty underweight and beat up when he came to our family. He too suffered from barrier anxiety. I foster failed after less than a month, he's the best snuggler in the world.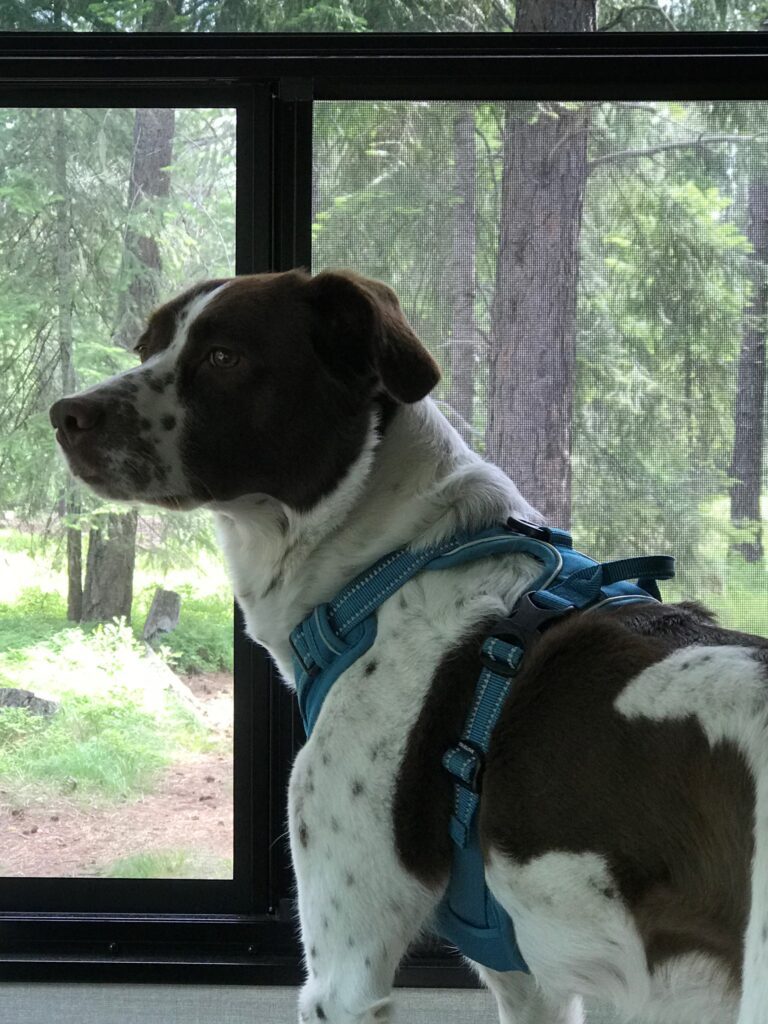 Ginger 6 years old – She was used as a bait dog. She was found in an abandoned house; her legs had atrophied, and she had a broken her femur (per the surgeon the break was the result of abuse, likely from a bat or similar object). She has undergone a successful surgery that allowed her to keep her leg and live a normal life. Unfortunately, her emotional wellbeing wasn't so easy to fix, she's still reactive with strangers, though much better than before. After a year of fostering her and she stole our hearts and, we had our fourth dog.
With such a mix of personalities and backgrounds, we were bound to have some behavioral and medical issues.
The Challenges Begin
It all started with sweet little Sophie, 28 lbs of awesome. She eventually came out of her shell, and some of her true colors started shining through. Turns out she was a food-crazed canine. She first started with counter surfing. Realizing that the worst punishment she would receive would be a stern talking to and a time out, she figured the food reward was well worth the "punishment."
It didn't take long for counter surfing to turn into getting into the garbage, jumping up on the counter, breaking a metal pet gate to get to cat food (which resulted in a titanium crown on her upper canine, 2 years later she snapped off that tooth also trying to get cat food.).
We were doing all we could to keep up with her, but she was like a mini tornado of destruction. We had attached the garbage can to the wall, only at the top but that wasn't good enough, she ripped it off the wall and caved in the back of it, it is now anchored on all four corners.
We have baby locks on all the cupboards and refrigerator. We reinforced the pet gate with an additional metal rod, attached it to the door frame and wrapped the bars with rope so she couldn't break any more teeth. But she seemed always to be one step ahead of us.
We had scratches on the locks which were actually bite marks from her.
We had to attach our garbage can to the wall.
We had a silver rod and metal attached to our cabinet as reinforcements to keep the pet gate in place…with a rope to protect Sophie's teeth.
Finally, it was the bottom shelf in the dishwasher. Sophie pulled that out and dragged it into the dinette where she proceeded to remove the dishes and chew/lick them clean. That was Thanksgiving evening.
By then I was pulling my hair out trying to figure out how to stop this crazy behavior.
Then it struck me, how about a pet cam. 
I researched different options and found what I was looking for, Wireless IP Camera 1080P. It has two-way audio, motion detection notification and the ability to record so we can playback the video. Ultimately, we can talk through the camera, and we're notified when there's movement. If we miss anything, we just check the recorded history.
We downloaded the app to our phones and set it up to text us when it detected motion. We knew we would get a ton of text messages, but there wasn't any way around that. We needed to catch Sophie in action to correct the behavior.
Caught on Camera
The first time we caught her on the camera she had just jumped up on the counter, so we used the microphone function on the phone app and told her to "Get Down!". OMG! It was hysterical! She froze looked around, jumped down and ran off! If she could talk, I'm sure she would have said she thought God was talking to her!
Sophie wasn't the only one who needed some additional monitoring. One evening we came home to find our loveseat ripped open. I was floored when I saw it. At first, we weren't sure who the culprit was, but this is where the camera came in handy again. We checked out the recorded footage and saw Calvin had gone berserk and tore apart the couch cushion. Turns out Calvin has a bit of separation anxiety.
Next was Ginger. After we adopted Ginger, we wanted her to have free run of the house with the rest of the dogs. The camera was perfect for this. It allowed us to monitor her behavior and comfort level with this new freedom. Thankfully she was a natural and nothing was destroyed in our absence.
But behavior issues weren't the only thing the dog camera helped us with. In early March of 2018 Daisy suffered 3 strokes. The result of the strokes was a long bought of vestibular, it was two and a half months before she recovered. During her recovery, we eventually had to leave her home alone.
It was mid-April when we first left her home alone. Because she was still unstable, we had to kennel her. We set up an extra-large kennel complete with bed and treat-ball to keep her entertained.
About the hundredth time we checked on her that evening, we saw she was no longer in the kennel, and the door was wide open. We found her on another camera lying down, but we still rushed home. When we got back Daisy was safe, but a bit anxious. And when we checked the recording on the camera, we saw that her sister Sophie busted her out of the kennel, not out of love, but instead for the treat-ball.
The pet cam has been absolutely invaluable, for as long as we have dogs, we'll have pet cams in the house. We still use it today, just to check in and see how they're doing or to check to make sure we remembered to lock the cupboards.